Kalle Beck of Starting Strongman
Kalle is the founder of Starting Strongman which is an education platform for the sport of Strongman. With the tagline "Strongman is for Everyone" Kalle has grown an incredibly active community focused on introducing, and welcoming, others to the fun challenges the sport offers . In addition to competing in Strongman for the last eight years Kalle does online coaching, Strongman seminars, and is writing his first book.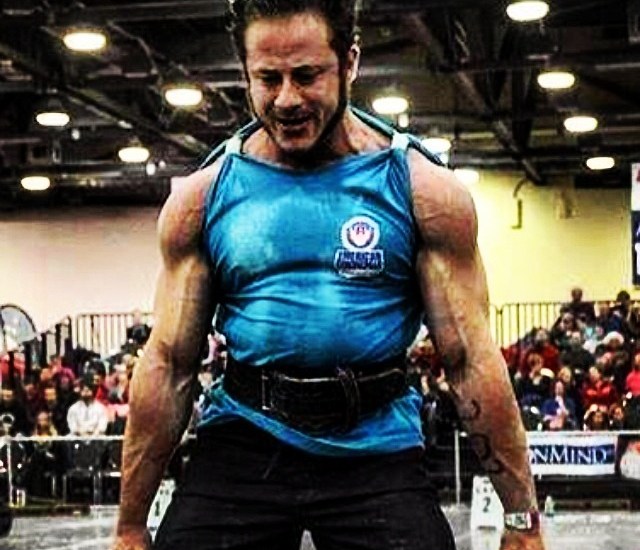 Note from Matt: This interview was recorded from a phone call and transcribed by me. Some parts may be edited slightly for an easier read.
Matt: It's been a little over a year since we did our first interview togetherand Starting Strongman has grown like crazy! Can you give us an update on where the brand is right now?
Kalle: Absolutely. In our last interview I talked a bit about how I was in hustle mode at the time. My focus was on putting as much energy into Starting Strongman as possible. Over the past year I've been able to switch from working 24/7 to focusing on certain areas of growth for the brand. Starting Strongman is established now so I can focus on working to get this company/brand to where I want it to be. That means that I can go back to where this all started and help people one-on-one. I've always put out as much free information as possible and now I offer services to help those who want more personal engagement with programming and coaching. After experimenting with a ton of other stuff to grow the community it's awesome to get back to this and work towards helping those that the most involved make progress with their goals.
Matt: The Starting Strongman FB page has just reached the 10,000 like mark and the FB group (links below) is not far behind as well. These numbers are huge for a community that's as active as the one you've grown. What do you think has been the key to getting your community to this point?
Kalle: With that I haven't really changed anything, The brand has grown through word of mouth along with a steady flow of good content. I really try to stay as engaged as possible so it's a community run by a person instead of a robot (laughing).
Matt: I think that you do an AMAZING job of doing this compared to all the Facebook groups I've been involved in. You really do put all of yourself into the community and it shows.
Kalle: I do that because I enjoy it. I like discussing Strongman with people. To make my wife happier it's probably better that I do it with the internet instead of her because she could care less (laughing). I love being able to help others and it's just grown as a result of that. I've never even paid for a FB ad up to this point.The way I look at it is that if you can grow something that grows organically like Starting Strongman does and continually put out great content then the people who are actually interested will be the ones engaging. There's no fluff or empty numbers in Starting Strongman. I see a lot of pages that have a high Like number but who have a super low reach. As an admin you have to be engaged. You can't just put stuff out there and go away. Your reach will be stagnant. It doesn't matter if you have 100,000 likes if it only reaches 1000 people. What's the point of even having the page if that's the case? There's pages out there who have 10x as many likes as Starting Strongman does and the reach is lower because they aren't consistent and don't engage with the audience.
Going back to your first question, another thing that I've changed is focusing on putting more people's opinions out there besides my own. Last year when we talked it was still a one man show. All of the articles produced were put out by me. All the questions answered were by me. Personally, I don't feel as if I'm even the best authority on all of these topics and I'm certainly not the only one. I want people to know all of the other qualified coaches and athletes in the Strongman space. I'm never going to claim that I'm the most knowledgeable person out there. I just work really, really hard at putting good content out there. There are so many great athletes in this sport that are just not recognized at all. A lot of them are excellent coaches as well, so I'm trying to have more of them write content for Starting Strongman. I actually haven't wrote a new article myself in a while. Luckily I've written so many articles by now that I can send them to answer the majority of questions I receive in the group. I have zero interest in putting out a new article that's just rehashing old content. I'm sure stuff like this would get a ton of views, but I don't see how that's beneficial in the long-term because I can just share the great content I've already spent time on to put together. Going back to content by other coaches and athletes, I like it because I actually read them and learn. It's great to hear from other perspectives than just mine and I'm learning other members of SS are definitely learning along with me. Really what I'm trying to do here is give the people a voice and a platform to be heard. If you look at Crossfit you see all these athletes who are promoted by the HQ and various brands. These athletes build a following because of it and are able to have a career in the sport. That just doesn't really happen much in Strongman. It's gotten a little better, but I want to be a part of letting everyone know who these people are besides just the top 10 at Worlds Strongest Man. I want people to see the 150 pound girl who is the best in the world at lifting stones. Instagram is something that has definitely helped with this athlete promotion. There are a lot of people who use the hashtag #startingstrongman. I'll reshare videos I come across because it's just amazing to see the variety of people putting themselves into this sport. Even if you see someone with a video that's pushing a novice level weight if they show great effort it sends an awesome message. I'm going to share videos like that and continue to put other voices out there.
Matt: Building off of that, let's talk about the various individuals who have helped Starting Strongman grow over this past year. There's Robert Oberst who you do a podcast with, Brian Shaw who recently published an ebook through Starting Strongman, and Drew Spriggs who you're doing online coaching with. I'm sure there's others that I'm missing, but I'd love to hear about them!
Kalle: The first person that helped me was one of my clients Dan Davis. He helped me a ton on the technical side. I already had a website up, but it was just my athlete page. When I was switching over to StartingStrongman.com he helped me with the transition and it was huge. He also made the Strongman gym map. I've had a few people who have helped with various designs. It's the weirdest thing. I see people who get mad when people ask them questions and I know it can get a bit annoying at times, but there are so many benefits to engaging with the community. I have people who have never really been too involved in the group message me with designs for a cool shirt they'd like to see us do. People just reach out and share their skills with Starting Strongman because I've helped others. I really feel if you help others for free that it comes back to you in the end. There's been a lot of little stuff like that. The tough thing about answering a question like this is that it's neverending, but basically a ton of my friends and people from the community have really put in their time to help this all grow. It's not just me anymore and I'm so thankful for each person who's helped.
I definitely have to thank Chad Wesley-Smith as well for his help and guidance. When he signed me as an athlete he told me that the goal of Juggernaut was to put the top athlete's voices out there so they could try to make a living through their expertise. Chad doing this really helped me get a lot of credibility in the space and you can see exactly why Juggernaut is doing so well. They've grown to over 200,000 likes at this point on Facebook with a really strong community. I've learned a lot from the way they run their business and have grown their brand. It's given me a lot of confidence to continue to put more time and energy into Starting Strongman.
Matt: You've put in a ton of time over the past few years being involved in the community and creating content and as a result of that your professional services are growing as well. Through Starting Strongman you now have online coaching and have published ebooks through the brand that help thousands of people around the world. Tell us a bit how these services are growing and the results you've seen.
Kalle: So I'm definitely working on my own ebook which is exciting. The goal here was just to continue to put out great content. We started out by creating a free 12 week Strongman program that anyone can receive by signing up for our email list and added two Program ebooks, the Cube Method and the Refugee Method, after that. We recently released the ebook telling the story, training, and nutrition behind 3 time World's Strongest Man Brian Shaw which was a great read. I'm really excited to add my content to the list. It's going to be really different than what you've seen out there so far so I'll keep you updated on it's progress.
Regarding online coaching, I think it's important to say that I don't want anyone to ever think that they have to pay for information. If someone wants more hands-on instruction and guidance that's where online coaching fits in really well. If someone wants a basic Strongman program that's why we have the free program resources from Drew and myself out there on the website. Online coaching is great for athletes because someone else can be in charge of the programming and pushing them forward. My job is to learn with the athlete what works for them and I've seen some great results from this. One of the things I like about this process is taking clients from a somewhat untrained novice level to being able to compete at Nationals. One of my old clients who used to work with me, Robert Lira, is a great example of this. We haven't worked together in over a year now, but he still uses the same principles I taught him through coaching and has qualified for the Arnold World Championship. We worked together for eight months and he progressed so much during that time span. Old clients like Robert still message me to bounce ideas around. I was working with Aaron Fondry who's one of the top ranked 220 pounders in the world and can deadlift 700+ pounds. He's crazy strong, but his log press sucked at the time. I worked with him for about 8 weeks and we got his log press from 275 to 300. It's not that he got 25 pounds stronger in that time frame, but he did learn how to apply his own strength. With Strongman a lot of people who come into it have a strength training background but still have to learn all these new events and techniques. There's so many ways that you have to be strong. The main thing is taking their existing strength and applying it to new skills. These areas of improvement are different for everyone. For example, a powerlifter might be statically strong, but they are most likely going to struggle at the moving events. Someone who comes from football is probably going to be very athletic, but may not have a really strong deadlift because it's not a frequent part of their training. Robert Oberst and I were training partners back in the day and when he started he was really athletic. To get to where he is now he had to get his deadlift up. We were able to help each other and become better strength athletes as a result of it. To get back to online coaching, I don't really like to take credit for someone else's results. They are the one's putting time in at the gym and have earned their accomplishments. I'm just guiding people. I'm there to help them not only with their programming and technique, but also the mental side of the sport. Getting to know my athletes and find what works for them is probably the best part about this whole experience.
Matt: You've recently started doing seminars across the US as well. How has your experience been traveling and giving hands on guidance to Strongman communities?
Kalle: Yeah, so Robert Oberst and myself have partnered up  to instruct Strongman seminars to continue to put great information out there. We've done several across the US and plan to start traveling around the world next year. I think we will be traveling to Australia sometime in 2016 which will be really cool. There's a huge demand out there.
I really enjoy the seminars because even though online coaching is incredibly valuable there's a limit to what you can do compared to in-person training. Being able to show someone and watch a lift in-person is so valuable. So, Robert and I just had a sold-out seminar in Pennsylvania and have another in Portland coming up. It's just awesome to be able to go to these new areas and meet new friends in person. When I hear how the seminar attendees are continuing to apply the lessons we passed along after our event it's very rewarding for me. A lot of the seminar attendees happen to be trainers themselves so I'll hear things like, "I took the lessons you taught us to show my members on our Strongman Saturday and four people PR'd their Log Press." These coaches now have extra knowledge and ideas on how to teach these lifts and the results speak for themselves. Spreading that good information helps new people get into the sport so the seminars are really paying off. This last one we did in Pennsylvania had people who traveled 5-6 hours just to see us. These seminars are not only a great opportunity for us to connect with the people who come, but also for them to connect with each other. At the beginning of each seminar we ask everyone there to introduce themselves and by the end everyone starts exchanging information to get together in the future. That's exactly why I started Starting Strongman in the first place. To add to that, I did one seminar at GrassRoots Crossfit in Berkeley and around 90% of the attendees there had never done any Strongman training before and since have competed in Strongman contests. This is how the sport is going to keep on growing. More exposure and quality information.
Matt: Last year I shared the interview we did together in the Starting Strongman FB group and mentioned how excited I was for the growing movement. There were several comments that thought that it was ridiculous to think of Strongman as anything but a small niche sport, but if you look at what's happened over the last year it's clear that the sport and community are growing. Starting Strongman is a key part of this and will continue to lead the charge. So, what would you say to someone who hasn't participated in Strongman before and is curious about the sport? To add to that, where do you think Strongman will go over the next few years?
Kalle: If someone wants to get into the sport I just have to reiterate the tagline for Starting Strongman, "Strongman is for everyone." It's not only for guys who are six foot five and weigh 300+  pounds. This isn't a sport where you have to deadlift 600 pounds to get started. What I mean when I say that Strongman is for everyone is that an empty keg weighs 35 pounds. A farmer walk implement from Rogue weights 40 pounds. A log with no extra weight weighs 65 pounds. Pretty much anyone can pick those up and they can make themselves the strongest version of themselves. Whether if they are ever going to beyond the local Strongman event who knows? Worlds Strongest Man is for the 1% of athletes out there, but that doesn't mean that if you watch the Super Bowl you can't go outside and toss the football around.
The best thing you can do is find a gym or trainer in your area who can give you in-person training to get started. On our website we have a gym map that now has 750 Strongman gyms listed from around the world. That doesn't mean that it has every gym with Strongman training out there but it's the largest list out there. Even if it's an hour drive if you just go their once a week you can continue to get better. If you're serious you will put in the time to learn and improve. When I started training I drove an hour and 45 minutes to go to a gym in Scotts Valley and two hours back (with traffic) every single day. My entire day was focused on training for Strongman and when I would learn more about how I could improve. The next thing is to get on a good program and you can find a great free Strongman program on our website as well. The information is out there for you to learn more about the sport. I've created over 200 videos for Starting Strongman and will continue to be adding more. It's a great place to learn. Just read as much as you can and feel free to ask us questions. There's not a certain level of strength you have to have to get started. If you want to test yourself and compete you can easily search local competitions and find the weights that people did the year before. The opportunity is there. There's no reason to be scared to start. I think I zeroed four events my first time competing. It's supposed to be heavy for you and it's supposed to be a challenge. That's part of the fun for it. That feeling going into an event of not being sure if you can do something and then doing it is amazing. It's the best feeling in the world and something I want everyone to feel. It carries over to every aspect of your life and gives you a tremendous amount of confidence.
As far as where I think Strongman can go growth-wise I think it can have a huge reach. We talked about this in our last interview, but Crossfit has been huge in helping with the growth of our community. Crossfit has created a much larger base of people who are interested in lifting weight and directly increased the amount of people who want to try out Strongman training. USAW Weightlifting had to restructure their certification program to accommodate the amount of people who want to learn more. This increase in exposure has helped weightlifting, powerlifting, and Strongman. When I get new submissions for Strongman gyms at least a third of them are Crossfit affiliates. It may be only one coach who does Strongman training on the weekends, but that's huge for our community. The Crossfit Athletes who like lifting heavy but don't want to run a 5 K are drawn to this type of training. Strongman as a whole should recognize that and introducing more weight classes was a great step towards making it easier for more people to be involved. What Strongman needs to do right now is showcase the lighter athletes more. Crossfit did an excellent job of telling all these different athletes' stories and Strongman can do the same thing. You need to show the skinny girl who loves this sport along with the larger than life competitors at Worlds Strongest Man. Personally, every manlet I've talked to said they got involved into the sport because I was doing it at five foot six (laughing). That's exactly why I tell all of the athletes to share their stories more. If they share these aspects of their life there will be someone who relates to it. Even the giants at Worlds Strongest Man have such cool backgrounds and we don't know anything about them! That needs to be shared. Only a small percentage of people care about the weights that are lifted. However, there is an audience for the content we, the athletes, can create that no one else can. We're going to keep on working to do this with Starting Strongman and be the voice of the people. There's just so much room for growth and I'm excited to see where it goes. I plan to always be a part of it and see what I can do to help move Strongman forward.
Matt: Thanks for sharing your time with us Kalle. We can't wait to see where Starting Strongman goes!
Starting Strongman Links:
– StartingStrongman.com
– Facebook Group & Page
– SS Instagram
Subscribe to StrengthPortal Blog
Get the latest posts delivered right to your inbox