Interview with Mindbody CEO Rick Stollmeyer
Matt: Thank you for sharing your time Rick. I couldn't be more excited to do this interview because Mindbody has been a source of inspiration for StrengthPortal since day one. My co-founder and I attended Cal Poly from 2008-2012 and we were really lucky to be exposed to you and your team while you were going through an incredible growth phase. I'd like to start this off by going back to the late 1990's. At this time you were looking for something new after a career in the Navy and managing engineering service teams. Before you co-founded Mindbody you went back to Cal Poly to study Integrated Technology Management. Can you elaborate on what studying this topic really meant at the time? What type of career path were you interested in pursuing while you were studying technology and software?
Rick: Sure, so first of all thank you for doing this interview with me. It's wonderful to see a fellow entrepreneur building meaningful tools for the fitness industry. After I'd left the Navy in the mid 1990's I went into an engineering management role. Prior to this in the Navy I was a nuclear submarine officer, which is a highly-complex technical position. It's probably one of the most technical positions in the Armed Services and the job makes you highly qualified to manage complex systems. Most of my shipmates went on to have careers in aerospace, nuclear energy, and manufacturing. So I tried working in a few different industries myself. I was in the chemical industry for a short while and then I worked in the nuclear industry. There was a really sharp economic downturn and there weren't a lot of jobs at the time. I was living in San Diego for a bit and I knew engineers who were working shifts at the Circle K. I ended up getting hired by a nuclear utility plant in Chicago. After a few years in Chicago I was looking to get back to California and ended up getting a job at the Vandenberg Air Force Base with space launch. Vandenberg is the West Coast Cape Canaveral. SpaceX is very active there today, but back then it was Boeing, Lockheed Martin, Orbital Sciences, and of course the Air Force itself. So my work was focused on business development and engineering management and we were securing contracts with commercial and government agencies. I developed an interest in earning a Masters degree and there wasn't a part-time MBA program that I could take at Cal Poly. However, the Industrial and Manufacturing Engineers department (the IME department) at Cal Poly offered an Integrated Technology Management program where you could combine business courses and advanced engineering courses. My main interest at the time was to continue studying complex systems. Subjects like predictive maintenance, lean manufacturing principles (which was really innovative in the late 90s), just-in-time manufacturing, quality management, and so on. I was almost done with this program when an old friend from high school, Blake Beltram, showed me the software applications he was writing for boutique fitness studios. I'd never heard of this industry before and started to study it. I found out very quickly that Blake had tapped into this whole new way of fitness which would later be called "The Second Wave of Wellness." This was a very different business model for the health and fitness industries. The fitness business model up until the late 1990s was mainly large health clubs. 24 Hour Fitness, LA Fitness, Bally's Fitness, Crunch, etc all originated in the late 80s or early 90s. That was really the first wave. The second wave was these boutique studios that had a much smaller footprint so we were right there at the beginning. The wave was just starting to gain momentum in LA and New York in the late 90s. So Blake and I ended up founding Mindbody from my garage in 2000 with the goal of delivering business management solutions to this new, growing segment in the industry. Despite the starting focus on B2B, even in the early days we had a larger vision in mind, which was to create a portal (that was the word back then for a marketplace) that would help connect personal trainers, teachers, and therapists to consumers. There was always a B2C objective.
Matt: So this was around the time of the first internet boom from 1998-2000, but it sounds like what really drew you co-founding Mindbody with Blake wasn't necessarily the software aspect of the business. What specifically attracted you to the customer base and industry?
Rick: I was raised by a small business family. My Grandfather, my Dad, and three out of four brothers were all small business owners. Specifically, they were retail small business owners. Lighting fixtures was the family specialty. So from the age of 11, until I went to a Naval Academy, I worked in a retail store and learned everything about running a small business. My Dad taught me small business accounting with paper ledger sheets (this was back in the 80s before PCs) and let me participate with him in implementing a local area networked PC to automate that business. So I first got to see how hard it was (laughing) and then how much power could be unleashed by automating manual activities. That was my first experience with PC technology. I can code a bit, but that's not the best use of my time (laughing). The best use of my time is to spend it with customers. So when Blake showed me what was going on with these boutique fitness studios I went and spent time with the owners. I connected to them instantly. It was the same mindset, the same type of scrappy grassroots entrepreneurial spirit, that I knew from growing up working with my family. These people dared to leave the safety of a good job and would put significant parts of their net worth into opening a business that's purpose was to help people lead healthier lives. I found it truly inspiring. But it wasn't just a heart based thing, my head was engaged too. Blake and I reasoned that this movement was going to be big in the 2000s. We thought that boutique fitness was a much more meaningful experience compared to just selling a bunch of gym memberships and not expecting people to come very often. That was the classic Big Box health club model. These small business studios, trainers, and instructors only make money if you showed up. It's a true consumption economics model rather than a breakage model, which is what these health clubs had devolved into by the late 90s. They would sign you up for a membership and hope you don't come in because they don't actually have enough room or equipment for everyone. To add to that, if you tried to get out of your gym membership they would send you to collections. It was just a really low quality business model. Boutique fitness transformed all of that and it required a more intricate business solution. Blake and I understood how to model that. He had been raised by a single Mom who built her own business as well, so we both had this scrappy small business experience and a true appreciation for these folks. Back then there was no one in technology who was building solutions for small businesses. The big software companies at the time were mainly focused on building software for enterprise companies.
Matt: I'd never connected the dots on your small business family background there, that's fascinating. My Dad's side of the family are all small business owners as well, carpenters by trade. My brothers and I grew up helping with the families bedroom furniture store in Sonoma. I always had an interest in fitness and when I started to meet trainers, gym owners, and studio owners in collect I realized instantly that these were my people. It's very cool to hear that you had a similar experience.
To go back the timeline, so you and Blake made the decision to go all in on Mindbody. In those early days working out of your garage what was your day to day role like? What were you specializing in as the CEO of a growing software business? What really helped Mindbody become a viable business?
Rick: Well my task was to scale the go to market side of the business. Sales, marketing, and customer service. We realized early on for these fitness small business owners that once you delivered the software tool to them they would need ongoing support. Back then this was on-prem. Supporting this software was much harder than it is today with cloud software (laughing). There were regular updates and things would go wrong all the time. This was back in the days of Windows 98. The operating system was unstable, it would get massive viruses that would corrupt data...there were just a ton of problems we had to deal with. So my job was to build a team that could manage that. I was literally the first sales rep, I was the first support specialist, I was the first onboarding specialist. At the same time while I was out there interacting with customers, and I really was out there. I would drive my car up to San Francisco and down to Los Angeles. Around that time we were using this magical new technology called PC Anywhere that would allow you to connect to someone's PC remotely. This allowed us to service our first customers out in New York all the way from the Central Coast in California. So, with the business growing Blake and I started building a team. We started to hire Cal Poly students and recent graduates in the early 2000s. This was also during an economic downturn. This is an important theme that you'll notice during this interview and it's a theme that is going to be very relevant to all of us over the new few years of recovering from this crisis. Economic downturns are enormous opportunities. We launched our business in the wake of the Dot Com bust, late in the year 2000. After we started marketing New York city, 9/11 happened. New York City was bombed. I mean, it was unbelievable. We had so many existential moments where we nearly lost it, lost everything. During all of this Blake was holed up in his apartment in Glendale and I was in my little house in San Luis Obispo. I wanted him to be able to focus on coding as much as possible. Then we hired a Cal poly graduate student who I had met in the Industrial Engineering and integrated technology management program. We hired her to work from home and she started helping Blake. So as I said before, my job was to scale the business and Blake's job was to continue coding. Very early on, since I was so close to the customers, I became a close collaborator in the visioning of the software. This was software product management. Blake was the original product owner. He had built the first software solution before I even joined him in the late 1990s, but then we very rapidly started innovating on top of it. The first innovation was the ability to synchronize data between locations. The basic challenge, which is something a year you're addressing today with StrengthPortal, is how to support a multi-location fitness business. Well with cloud software, it's very easy. With PC technology, you had to have an instance of the database on every computer and they had to synchronize. Setting that up and leveraging the internet to synchronize across multiple locations was our first breakthrough value proposition. A consumer could buy a 10 class pass at a New York Upper West Side studio and use it at the Soho studio location. This allowed for the consumer, and the teachers, to divide their time between multiple studios which was huge. So we released that capability in 2002. In 2003 we released the first web scheduling tool and now we were in the web hosting business. The challenge with all of this data synchronization is that it wasn't real time which would lead to all kinds of issues. Despite that, our software still provided a great value and it was a breakthrough capability for these small businesses at the time. However, there were flaws in it. To go back to the timeline, it was around late 2003 when I started saying to Blake, "Look, I don't think this thing is going to scale." I thought that the web scheduler (which is what we called our web booking system at the time) was the software that would help us scale the business. The more I thought about it the more I wanted to take the capabilities of the desktop software and reverse engineer them into the web software and call them Mindbody Online.
Matt: That goes directly into the next question I had. I've read in a previous interview you did that QuickBooks online was the company and product that inspired you to make the switch to building your own cloud software with Mindbody Online. As you were just describing, at the time you're shipping CDs to customers and setting up the on prem software. I was curious about this because these days, Salesforce largely gets credited for being like the first SaaS company, but according to the timeline, Mindbody made the switch right around the same time. Can you clarify that timeline for me? It seems like several companies all made the jump into cloud software as we know it today all at once.
Rick: So I don't think I could say we beat Salesforce. Marc Benioff and his team had built an entire business model on that idea. It was about 2003 when we first became aware of Salesforce and to be candid I didn't really understand Salesforce. I'd never used a CRM system or any of the tools that they ended up replacing. My software experience was all point of sales software or engineering software. As you said in your question, the software that really helped plant the idea for us to go to the cloud was QuickBooks Online. One of the roles I had in the early days while working from the garage was accounting. When I first heard about QBO I was fascinated. I think Mindbody was actually one of the first QBO online subscribers. Their first product was rudimentary. It wasn't nearly as good as the installed version of QuickBooks, which was called QuickBooks Pro. But the fact that you can access your data from anywhere through a web browser was a real breakthrough. So I think that helped plant the seeds for us to make the switch along with the frequency in which our desktop software was breaking. We'd have customers who had their local databases corrupted, but we had a good copy of the database on our online web scheduler. If we just put the reports on the web scheduler then the business owner could run their payroll. The wheels start turning and you start to ask, "What do we even need the desktop software for?" The idea was solidified by our team in early 2004 and we started working on the product right away. We did our first beta tests in Q4 of 2004 and then released in February of 2005. It was the commercial release of Mindbody Online. This changed everything. However, it also created a real challenge with my partnership with Blake because what I was doing by moving Mindbody to the cloud was killing his baby. He had put in blood, sweat, and tears over five years into building our desktop software and which we called OmSoft. We also had the version for Pilates studios which was called PilatesSoft. In fact, we were going to call the company OmSoft, but there was an internet service provider in California that was called OmSoft Technologies. They're long gone now, but that's why we couldn't get that name. So by putting our focus into Mindbody Online we were killing Blake's baby and I think it was very hard for him. Well, I don't think it was very hard for him, it actually led to a rift in our partnership for several years. It was difficult for us because we were close friends. I think a takeaway here is that one might think that it's ideal for a software entrepreneur to be a coder. I do think it's good for a software entrepreneur to understand the mechanisms of coding, to learn a software language, and to understand what the development process is like. But the problem is that if the head of the company is attached to the product then the product becomes the center of gravity rather than the customer. For any business your customer has to become the center of gravity and your purpose has to be your North star. The product is a means to an end. So I think that gave me the kind of mental agility to say that this thing that we built can be made incrementally better, but it's never going to scale. I think seeing clues like with QuickBooks Online and hearing about Salesforce helped plant the seeds in my mind that there was a better way to do it. There was also some research that we did behind this that helped our team make the decision. We were tracking the statistics of how many households had high speed internet. Before high speed internet there was dial-up modem and you clearly couldn't run SaaS (software as a service) on a dial up modem. It had to be high speed. The question was how quickly were DSL and high-speed cable coming to these households and, in parallel, coming to small business locations. The data as early as 2002 had predicted that we would reach 50% penetration of high speed internet by 2005. We were armed with that knowledge and understood that a good time to release the online version of Mindbody would be 2005. We thought there would be a slow adoption with our users, but it wasn't.
Matt: What did the market look like at the time? Who were your competitors? I'm curious if you were the first company in your space to market to make the jump to going to the cloud.
Rick: We were definitely the first to go online in our market and no one else made that switch for at least a few years after us. Our competition was all on prem software. There was a company called Yoga Soft, there was another called Yoga Counts. There were multiple companies that had the names schedule or appointments in their names. Appointment Plus is still around today. Anyways, there were a lot, but we were the only ones doing a crafted approach that could link multiple locations and do online booking. When we made the leap to what's known today as SaaS no one followed us for around two years. It seems so obvious today, but it was not obvious back then.
Matt: That makes a lot of sense. It's hard to make a switch and transition into the unknown for any company.
Rick: Particularly so if a founder or the CEO is the guy who built the original software. We saw this play out with multiple competitors. Our competitors were built by the CEO themselves and it was being disrupted. It's an extremely difficult situation, it's a classic innovator's dilemma.
Matt: So you started to touch on this a bit, but how difficult was it to switch customers over the new Mindbody Online software platform? Were customers sticking with the older versions for the platform for a long-time?
Rick: It wasn't difficult at all. It was actually much easier than we thought it was going to be because the new product was so much more compelling. The basic value prop was that you could access your business information anywhere at any time. We created t-shirts that we would bring to trade shows, Mindbody Online - anywhere, anytime - to introduce people to this idea. We deliberately used the word online because of America Online which introduced a lot of people to the internet. People in tech love to scoff at the business today, but AOL was the internet training wheels to get this whole thing rolling. So we deliberately chose a name that was very approachable that would help people understand what we were doing. Online banking had just become a thing, so we would say this is just like online banking. You could be at a friend's house at a dinner party and you can log into their PC to see what's going on with the business. It was a magical value prop and it was less expensive. So the Mindbody Online software product was released in February 2005. The last licensed version of our software, of OmSoft, was sold in March of 2005 and our sales tripled. We realized that we had a hit. To answer your question, because it's further down the timeline, we converted the last customer off of the premise software a year later. We had disrupted ourselves. It was extremely exciting. We went right from selling 50 licensed and installing 50 business licenses a month to selling 150 SaaS subscriptions a month. The challenge was that we went from a celebratory moment as a company directly to having an "Oh shit" moment. The transition happened so fast that we were about to go broke. Our licensed software had an average contract that was about a couple thousand bucks a month and maybe $50 a month in maintenance plus the data synchronization fees. Suddenly we were selling a product for $150 startup costs and $60 a month after that. Those unit economics are exciting in the long term and terrifying in the short-term.
Matt: What did you do to get past this challenge as a business?
Rick: I had to instantly develop a whole new set of muscles called fundraising. That's when our new partner steps in. Bob Murphy and his wife had created a very successful chain of yoga studios in New York city that they sold to Yoga Works. Bob was one of our early adopter customers. When I told him that Blake and I were having a conflict he understood the nature of the conflict. He aligned with my vision for where the business should go. He brought in some of his own money and helped connect us to other angel investors. He became my next business partner. Bob became an investor in 2004 and then after they had sold the yoga studios and he joined me full time as my partner in 2005. He had really strong connections. I'm the kid from the middle class family, he came from a East Coast blue blood family and he knew people. He said, "You're the talent, I'm your agent." So he'd go set up the meetings and they would put me on stage to pitch the company. I'd be in a boardroom presenting our slide deck to a bunch of skeptical looking New Yorkers in business suits. Ultimately, we ended up finding our early angel investors in 2004 when we really needed the money.
Matt: When you made that jump with taking on investors the goal now becomes getting a return for their investment. Obviously with the timing and with Mindbody transitioning to becoming a cloud platform it was the right investment for all members involved. Looking at the timeline from 2005 to 2010 Mindbody started making giant leaps forward with growth and with software platform features. Can you walk me through what the focus was for the company after receiving that angel investment? To add to that, when did the team realize that aiming for an IPO was a viable path?
Rick: As soon as we realized that we had disrupted ourselves with Mindbody Online, we realized that we had created a business that would be much more valuable if we succeeded. We knew that we couldn't pull off that grand vision without tens of millions of dollars. So the angel investment money was gone in the first year and a half. We actually did a follow on angel round that one of our other customers Trevor Tice, the founder of CorePower Yoga, who had a Silicon Valley background. He really understood tech and he was blown away by our Mindbody Online platform. He thought that it was a real breakthrough. I went out to meet Trevor in Denver one time and we took a walk around the corner from the headquarters of CorePower Yoga to go grab lunch. He just asked, "Do you need money?" I said, "Hell yeah, I need money." Our team at Mindbody was running on vapors at that point. So Trevor just flips open his phone while we're waiting for lunch to be served and I think before we finished lunch he raised us $1.6 million. That's an angel in the truest sense, I mean talk about lucky for us. So we had done a follow on round with the angels. We raised $1 million, then this $1.6 million, and that got us that kept the lights on through 2008. Then we started teeing ourselves up for an institutional round, a true series A. Although we call the angel round Series A, so it really was a Series B for Mindbody. We were initially aiming to raise $6 to 8 million (I can't remember the pre money value that we were targeting in 2008 off the top of my head), but there was something going on. It's funny because Bob was the New York guy and he was connected to all these financial people. He kept on saying that things were not looking good economically. I had no idea what he was talking about. I didn't know who Bear Stearns was. So anyways, the economy just disintegrated while we were trying to raise our first institutional round as our business was running out of cash. I would call this the third time period where Mindbody should have failed. We were doing meetings with people in the summer of 2008 and when the economy completely melted down in September 2008 all of our meetings were canceled. There was no capital, so we had to really hunker down as a company. Team members went on reduced pay. We ended up getting really lucky and got into SIIA, the Software & Information Industry Association conference, in San Jose. Bob figured out how to get me a five minute speaking spot on stage. The conference was set up in a way where you had all these big companies and names who would present and then there were these five minute spots where startups like us would present in between. It turned out that the conference put me into the five minute spot right after SalesForce CEO Marc Benioff. Marc has an amazing onstage presence and he gave this speech where he shared his incredibly expansive vision for Salesforce's future where he talked about what the new world of SaaS looked like. The room was packed and before anybody could walk out after Marc's speech they put me on stage and I spoke for my five minutes. It was perfect, I just spoke about what we were doing as a SaaS company for the fitness industry and it worked. When I came off stage there were a bunch of venture capital people throwing their business cards at me. So in the middle of the financial crisis we were able to raise capital. We closed on $5.2 million in March of 2009. This is a really important lesson. We raised less money than we hoped at evaluation far lower than we wanted in a time when that money was just pure gold. At the time I still had my debit card connected to the business account. I walked down to the ATM that was below our office and when you raise venture capital you're always waiting for the wire to land, right? For context we were hearing about venture deals that were falling apart even after the paperwork was done. VCs had put the capital call out to their limited partners to fund the deal and the people weren't funding. Deals were signed, done, and approved and the money never came. In 2009 it was really scary. When our deal was completed I literally ran downstairs to the ATM to do an account balance inquiry. The balance in the bank account was $5.286 million. I'd never seen that much money in a bank account and I actually fell to my knees. My legs crumbled and tears came to my eyes. I knew at that point that we were going to make it. That money was so valuable during that time frame. After the economic meltdown everything from the price of plane tickets, to trade show alcohol, to Google Adwords, to the talent we were recruiting was all cheaper.I look back at the challenges of the early 2000s when we launched amidst the Dot.com bust to the financial crisis in 2008 and these two crises were actually catalytic to our business. Bob and I understood the target market. He and his wife had built a chain of yoga studios, he was connected to the industry. I knew the small business owners, very closely. We knew that they were all in. We knew they were committed and that most of our competition didn't really understand that. So while our competition was back on their heels being overly cautious, we became more aggressive. In 2009 that's when I think it's fair to say that Mindbody became first among equals in our space.That's when we just took off and left around a dozen competitors in the dust. It was a combination of luck and key insight. In 2010 and 2011 we just ignited at the same time as the industry really accelerated. Around the time you were graduating college and thinking about starting StrengthPortal we were blowing up into a much bigger and more valuable company. There were a few trends that were behind our growth. The first is that millennials started coming into the consumer side of the market and this was the first generation that had been raised with high speed internet. These consumers were very early adopters to smartphones and mobile technology. Going back, Steve Jobs shared the first iPhone in June of 2007. When our team at Mindbody saw that we knew that everything had changed. It's funny because prior to the iPhone launch historically I wasn't a big fan of Apple. In the early days of Mindbody the presence of Apple Macintosh computers was actually a hindrance to us because we had built a solution that only worked on Windows operating systems. That was the only option we had at the time because there wasn't a scalable relational database for Macintosh in the early 2000s. FileMaker Pro is the best there was and it was terrible. We were going with Access and Single Server. Macs were a real problem for us, so I wasn't a big fan of Steve Jobs. I changed my tune later on (laughing). Anyways, so our team realized that everything that we were doing would ultimately need to migrate to mobile. This became our top focus in the early 2010s. Mindbody was a business facing software application and we had to build the ultimate consumer facing application. One of our partners, Fitness Mobile Apps, built a while label mobile application that integrated really well into our platform and we ended up acquiring them. This is what eventually became the Mindbody Branded Mobile App that we offer today. On the consumer facing side, the first version of our mobile app was called Mindbody Connect. We actually had a web version that aggregated schedules, but we didn't have a single sign on or a universal consumer ID. So the early version of this consumer web application had very minimal adoption around 2011-2012. In 2013 we did a complete rebuild with a new design built on top of a new identity layer and released the Mindbody Connect app. That was right around the time that ClassPass emerged. There was a real advance in cloud technology and non-relational databases that allowed software companies to cost-efficiently aggregate and access massive amounts of data. We jumped on this opportunity and built our consumer marketplace Mindbody mobile app, now known as Mindbody.io. We built the platform mobile first, which was a really important decision. I can't say we made the right decision in every case, but in that case we made the right one (laughing). We didn't build the web application until much later and if you look at it today you'll see that it's still catching up to the mobile app feature set. So that was the first important milestone for our company. The second was the rapid expansion of our API platform. Mindbody aspires to be a platform company with an open web services API that enterprising entrepreneurs could leverage. Back when I was at the conference and spoke right after Marc he was actually introducing Force.com. I remember thinking, "Wow, that's the way to do it." So even when we were still a pretty small company we wanted to go with the open platform approach. There are pluses and minuses to open platforms, but we felt the pluses would vastly exceed the minuses. The pluses are you that you attract creatives to your space which will grow into positive alliances. At the same time, we also created some competition too. We actually enabled ClassPass, which was originally called Classtivity. ClassPass is both a partner and, to some degree, a competitor. However, our feeling was that when we create a fertile field that allows other seeds to germinate it will ultimately make our platform more valuable, even if it does create some competitive friction occasionally. We started with the principle that with our platform partners we would be as open as possible to give our platform partners pretty good insight into where we're going. We wanted to do this to reduce the competitive possibilities. To give an example, it would suck to create a startup that was building a new tool on top of the Mindbody api integration only to find out that Mindbody is already building it. So we want to be candid and say this is the direction we're going. We want to continually communicate how we define the box that is Mindbody and encourage others to build things outside of the box. We'll do everything we can to create a cooperative and mutually beneficial relationship. So, looking back on that timeframe from 2010 to 2015, those were the important decisions we made - focusing on mobile, data aggregation, and an open API platform that were our big differentiators in the market. Those decisions, plus the fact that we actually had the capital to do it right, were what led to our growth to the point where we could IPO.
Matt: I'm laughing a bit over here because you reminded me that when I first had the idea for Strengthportal at Cal Poly I got a really poor response from all of the entrepreneurship professors. They all asked if Mindbody already had what we were building and if we were concerned that you would build it out. The knowledge that they were missing was that Mindbody was building core business management software for six different verticals in the health and wellness industry, while we were just focusing on building a software platform for gym chains, fitness studios, and personal trainers that could integrate with the Mindbody API.
Going back to the timeline, all of the decisions that you made between 2010 to 2015 really paid off and in 2015 Mindbody did their IPO with a share price of $14 a share. I wrote a blog post about how excited I was for what this meant for the industry and San Luis Obispo. What was this experience like for you after working on Mindbody for 15 years up to this point?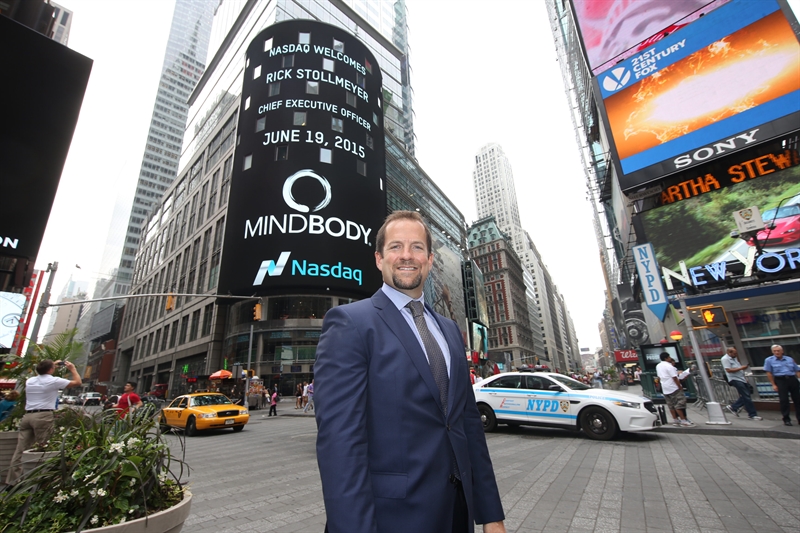 Rick: It was thrilling. It was definitely one of the highlights of this journey for the team and myself. We had a great banking team with Morgan Stanley as the lead-left with multiple other investment banks signed on to underwrite the IPO. The business was really cranking, we were growing at more than 40%. We were just crossing a $100 million run rate. To give you a bit of insight, the process of IPO is really good for the business because it causes you to refine and improve every process in the business. That was the moment when we truly grew up. I always saw an IPO as the proof that you've really created something that is broadly valuable. The list of companies that are able to go public is just very short. The vetting process is so comprehensive that after you go through it you're a better business and there are so many benefits. Our IPO elevated the wellness industry. It elevated the California Central Coast. It proved that you could start a business in a little town of San Luis Obispo and make it truly global. So it was a really exciting time. For me, it really sharpened my own abilities as a CEO. I had done a lot of pitching throughout the years to raise capital, but pitching in an IPO is a whole different level. It's almost like a political campaign. You've got a group of people handling you and you have to fly private all over the place or it wouldn't be possible to get to all the meetings you need to within the two week timeframe. I am curious what is going to happen to the IPO PR campaign process post Covid, this pandemic might change the whole process. You used to have to go to Europe and they don't do that anymore. Now your team will set up meetings in the North Americas (US and Canada). I forget how many meetings we had in 14 days, it was insane. The meetings started blending together. The key step for a successful IPO is to actually go out, meaning that you actually successfully underwrite, which we did. We raised $100 million. We paid $8 million in banker fees (laughing), so we ended up with $92 million. Now our stock was currency, which has all kinds of advantages. However, our IPO went out and the stock went down. Looking at it through the rear view mirror it's irrelevant, it really doesn't matter. In fact, some would argue that the ideal IPO, if you priced it optimally, the stock would hover around that price, but in the lexicon of Wall Street that's called a broken IPO. The share price breaks issue and they literally use the word break. The price opened at $16.22 cents and we were on the floor of NASDAQ popping the champagne. As we were giving toasts the stock plummeted down to $13. Looking at it now, it was just such unnecessary angst that I felt. Thankfully my Board of Directors at Mindbody, and some important mentors, were all just really wonderful about it. The Venture Capital folks who are on our board, as well as the independent board directors, just said that it was a blip and in two years I wouldn't even think about it anymore. But it felt awful that day, it was like we were tainted goods.
Matt: I'm going to summarize a few years in Mindbody's history here, so stick with me. The share price eventually went down to $9 and then very publicly you made an investment which became a bit of a turning point for the stock. Eventually the market started to respond to Mindbody's continued growth, your team acquired your largest competitor in the spa industry (Booker), and you continued to beef up the platform offerings by acquiring companies on the professional side and the consumer facing side. Everything was going well and the stock grew all the way to $40/share. From IPOing at $14 a share that's obviously a great return. Then in 2018 guidance was lowered due to the high costs and longer timeline than originally expected to integrate all of these companies and products you'd acquired into the Mindbody software ecosystem. You've described in a previous interview that you and the team thought it would be difficult for the stock price to rise out of the $30/share range for several years. That's when the team started to look for acquisition opportunities. Fast forward to December 24th, 2018, Mindbody announced their acquisition by the leading investment firm Vista Equity Partners at $36/share, at an overall price of $1.9 billion. Obviously this was a big win for most Mindbody shareholders, most of all all the investors who were involved before Mindbody went public. So the question I'd like to specifically ask is what was the acquisition experience like for you as the CEO? How difficult was it to make that decision?
Rick: Well first of all you correctly summarized all of the reasons as to why we did it. It was a great outcome for thousands of shareholders,which of course includes a lot of current and former employees, members of my own family, and myself. The acquisition process was really hard. I enjoyed being the CEO of a public company. By the way, when you're running a public company and there's a potential acquisition in play it's the biggest secret you'll ever have to keep as the CEO. If you accidentally leak that you'll end up in an orange jumpsuit because typically public company acquisitions result in the company being taken private or purchased for a premium to the public price. So if somebody has that information and traded on it they could make a lot of money. They of course would also get into a lot of trouble with jail time, so as a result as the CEO you have to be really secretive. There were only a handful of people at Mindbody that even knew about this being a possibility. These people, including the entire Board, went into the process not knowing what the outcome would be. Our team went out to quietly shop the company and talked to dozens of different potential acquirers, including private equity and strategic partners. We had to be so careful at every step because if even a rumor got out it would cause everything to fall apart. It's a high stress situation, much more high stressful than when we did our IPO, and you don't know the outcome. It was a ton of work. We built a pitch deck with all of the usual stuff, but we also did a lot of extra modeling so that we could present a three year picture to these potential suitors. We were doing that work in October, November, December of 2018, not knowing the outcome and the deal finally came together with an offer from Vista Equity Partners a week before Christmas. We actually executed the agreement on Sunday, the 23rdof December, and then we announced it on Christmas Eve. Most of our team was on holiday. I had to tell the world we had an agreement to be acquired by Vista and that we were no longer going to be a public company. Everyone's learning at the same time, everyone is reaching out to ask what happened. It was a very stressful time. And we weren't done yet. We had agreed to have a go-shop period where another acquirer could try to outbid Vista, and that's something we actively pursued because you want to get maximum value for shareholders. I had a lot of emotion about it because I knew it was the right thing for the shareholders and the right thing, I felt, for the business in the long-term. Well, let's put that into perspective. It was absolutely the right thing for the shareholders. There's no way that a company would have been worth more than $36 a share for a long time, especially with what's happened in 2020. You do not want to be on the public markets right now. Every public company has risk and our business had plenty of risk at that point. The board felt pretty strongly that there was just no prospect that the company would, even in the best of circumstances, be worth more than $36 a share in the foreseeable future. Of course, we had no idea what was coming in this environment. I mean, god only knows what the company would be trading for right now. All of our customers in the health and fitness industries are severely impacted by the Covid-19 pandemic and we have no idea when the end of this will be. So, we certainly didn't envision that kind of black swan event, but we did know there were risks to saying on the public market over the next few years in 2018. We'd taken on a lot of execution risk, a lot of tech debt, by making several big acquisitions. We had several new strong competitors emerging. They were putting a lot of pressure on us and they were threatening several of our big customers. Our competitors did in fact take several real big customers after the acquisition which really hurt. Anyways, we've fought back and gotten some of them back, but the point is that business is hard. I'll share a very private moment with you, I don't mind sharing it in your article. The decision point happened on that Saturday and I was on a Zoom meeting with the board of directors. The board controls the process, not the CEO. We'd created a committee and the committee was chaired by Eric Liaw, our most tenured board director and a major shareholder. The board hadn't made their decision as to whether they were going to accept Vista's offer. Before then we had countered and negotiated and pushed the share price for the deal as far as we could. The board wanted to hear my point of view. I thought about the risks of our business including the integration challenges we were having with Booker, new challenges from competitors, and how difficult it would be for us to meet the expectations of the market. So I said, "In view of all of this I have to recommend that we take this deal. We should accept this offer." Once I said that I broke down. I was emotionally wrecked by the stress of it, the intensity of the process, the impact and magnitude of the decision. So it was hard, but I knew it was the right thing. After the decision was made I had to be strong and put on a brave face for the team to reassure 1700 Mindbody employees (at that point) that this was the right thing for them, for our company's future. I also had to reassure all of our customers that this was the best thing for them while inside I was feeling a lot of turmoil. That's the truth.
Matt: Over the last 5 to 10 years it's become more and more common for private equity firms to acquire SaaS companies with the intent of capturing businesses with growing recurring revenue. Mindbody was obviously a perfect fit. The normal flow is to acquire a large software platform and then to continually acquire other software apps and tools to fill the gaps in the platform offerings to eventually offer an all-in-one integrated solution to customers. Once you acquire a customer you can continue to meet their needs with new apps and tools and increase the lifetime value. In the health and wellness industry in particular, this has happened across almost every large SaaS platform that I'm aware of. In general private equity firms don't get a lot of great press, so I'd love to hear from you what the benefits have been from being acquired by Vista Equity Partners family in the short term and what you think the benefits will be in the long term?
Rick: Well I'm a former Navy guy, so I can't resist some nautical references here and there (laughing). Life on the public markets is a bit like being out on the open ocean and when it gets stormy out there the ship gets tossed around. Our ship had gotten tossed around quite a bit. It had been a rough year for our team at Mindbody prior to the acquisition at the end of 2018. What the street was expecting from us in terms of profitability and growth was somewhere between extremely hard to impossible to meet. Being acquired by Vista Equity was effectively like taking our ship into a safe harbor. It allowed us to out of the glare of the public spotlight so we could repair and improve the business. Since the acquisition Vista has allowed us to invest a lot more in the business than we could have as a public company. To be blunt, we burned a lot more cash in 2019 than we would have as a public company. As a public company we would have had to be profitable again by the end of the year. It would have been difficult to even retain a share price in the $20's and that would have caused us to make some really unfortunate choices. We would have had to defer a number of important investments in the Mindbody marketplace, in our platform, and the continual migration to the cloud. Without Vista Equity we wouldn't have been able to do the key acquisitions that we did. For example we acquired an AI/ML startup called BowTie that has been very successful for us. We also recently acquired a salon and spa staff management program called Zeezor that we're going to be adapting to all of our verticals. These companies have been good investments for us ever before the crisis. Lastly, Vista's team is just really good at running software companies. Robert Smith is the founder and chairman of Vista. He and Brian Sheth founded Vista Equity on three principles in 2000. Number one, that software was going to create the most value of any technology in the history of humankind in the decades ahead. So it was the largest opportunity. Number two, that most software companies aren't very well run. This is true because software is kind of like nuclear fusion. It's incredibly powerful when you get it right, but it's really hard to get right. When you do get it right it has such powerful value creation that the business typically takes off in an almost uncontrollable way. So software companies typically have a lot of growing pains and as a result they're not very well run because it's like riding a bucking bronco. The third principle is that the best way to create value is through mergers and acquisitions. So based on those three principles, they created their private equity firm Vista Equity Partners that would, would focus only on software,, build a set of best practices, and then continuously improve on those best practices. We, Mindbody, have helped Vista improve some of their best practices, but let me be clear, they have brought dozens and dozens of best practices to us that have made us a better business. We are already a materially better business than we were before we were acquired. Their team has the patience to do this right. They're not focused on quarters. Quarters are literally irrelevant to their team, Vista Equity is focused on years. How do we create the most value in three to five years? There's a value creation plan that you formulate with them. So they're tapping into our wisdom, but then applying their best practices. They ask a lot of tough questions and they make you better. The only CEO that wouldn't like to be part of Vista is one that's just got too much ego. Someone who is in love with their own ideas and doesn't want anybody else to question them. That's never been me. This business has always been bigger than me and is way more important than just me. My only goal is to enable Mindbody to achieve its true potential because I saw that potential in the garage with Blake Beltram.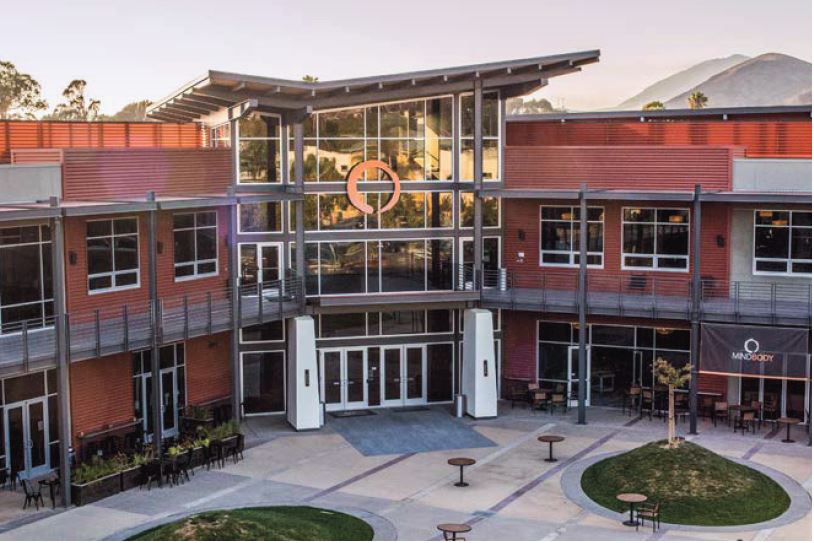 Matt: That was super insightful. I want to do a whole interview just asking more questions on those topics, but I have to move on (laughing). Thank you for sharing that.
So to document the time period for this interview here, we're in the middle of an incredibly challenging time for the fitness industry right now. It's 2020 and Covid-19 has changed our industry forever. During the Covid crisis Mindbody has been a great resource of data for how hard this has affected small businesses in the health and wellness industry, in particular. We both know how difficult this recovery is going to be and we've already seen significant numbers of gyms and studios closing permanently. As we speak we are getting some positive news with health and wellness businesses starting to reopen across the globe aggressively. Step one is reopening and we know it will take these businesses some time to get back to some semblance of normal. I want to take a longer view on this. What do you think the industry is going to look like in the next two to three years? What are the big changes that we're going to see in the market?
Rick: The industry will definitely continue to adopt, as it already has, virtual delivery as a component of its value delivery. I think that virtual delivery has limitations and this generation of human beings aren't going to be satisfied with a purely virtual experience. Maybe that will change 20 years from now as the next generation of consumers are coming of age. Kids these days are raised in a world with AR and VR and that's normal to them. They're going to have a different mindset, but I don't think gen Xers, millennials, and even gen Z are going to go to a pure AR/VR model. You just don't change 200,000 years of human evolution with a couple of decades of technology. We need and crave human contact. I think we go a bit crazy when we don't have it. So let's talk about things that we know are true. Number one, we know that every CEO in the world is asking themselves now, why do I have so much office space? So therefore all of us are going to be implementing work from home hybrid options. Many businesses, like Jack Dorsey with Twitter, are going to go to a pure virtual workforce. Others like Zuckerberg are saying we're going to do a hybrid model. I would say Mindbody is in the hybrid work/office camp. So you have to wonder with what that will do to commercial real estate? There's going to be a massive amount of commercial real estate available. It's going to be a blight on many downtown areas for a long time, but in that blight is an opportunity because one of the biggest headwinds for these wellness businesses in the last decade has been the rising cost of rent and how difficult it is to find good space. We saw this in the financial crisis of 2008 where the availability of space led to the best run brands accelerating their businesses. We're going to see these health and wellness businesses specializing in business models and training services that feel safer from the experience we've had during this pandemic. It's important to remember, we're going to solve COVID-19. It's probably going to get solved in the next year, but the effect on our psyche is going to last a long time. We're all going to be bigger clean freaks than before and we're also not going to be nearly as willing to be around a lot of people. But the boutique wellness industry is not about being around a lot of people, it's about being around a small tribe of people that you know really well. So I think the boutique studios can do well as we continue to fight Covid-19 and after we beat it. These businesses are going to have to implement more social distancing permanently. They're going to have to practice spotless hygiene and sanitation. If there's another virus scare down the road we're all going to have this pandemic in the back of our minds forever. So, we're going to have to adapt very quickly. Personally I don't think we're going to do shelter at home again, ever. I think that global experiment hasn't worked, unfortunately. That's a bit controversial, but everything I read right now and with looking at this social nightmare we're having in the last week, I think as a symptom of a larger issue. You just can't do that to human beings. We can shelter for a month or two, but not three. What's causing people to go a bit crazy right now is that we've been sheltered. Some important voices publicly are saying that we should be sheltering until this thing is solved. Nine more months to a full year from now?. That's impossible. That will destroy not only our economy, but also our civil society. So I don't think that's going to happen again. I think that this pandemic is really interesting because this virus was the most dangerous for people in two categories. The first is the elderly. Second is people with preventable conditions of obesity, hypertension, type two diabetes, cardiovascular disease, etc. You have to remember that all of these conditions can be improved significantly across the world through wellness practices. So what I'm hoping will happen from all of this is that we enter the golden age of wellness. We're going to see massive investment and improvement in public health and medical science. There's going to be billions invested. This will lead to the Manhattan Project of antiviral protection and that's exciting. Covid-19 has opened up people's eyes to the importance of science and that's really important. At the same time, I think this could finally be the thing that moves the needle on employers, insurance companies, and governments recognizing that they need to invest in wellness. Most of the wellness practices of the last two decades have been concentrated in affluent people. This is typical of any new technology if you look back on the last hundred years ago of technological adoption. Automobiles were originally toys for the rich and then it took Henry Ford to turn the car into something that the everyday person could afford. This needs to happen to the health and wellness industry. Virtual health and wellness delivery will help that happen because it vastly lowers the cost of entry. It's more accessible and it's also more physically and emotionally safe. For example, I might be feeling ashamed about my body and I feel like a fool when I go on a yoga class because I don't know how to do these moves. Well, I can try a yoga class from the safety of my own home. Then when I'm ready I can go in for the face to face experience. So I think the businesses that adapt well to this new preferred consumer flow and there will be a ton opportunity in the decade ahead. I want to close this out with saying that we should not ignore that the next year or two are going to be really rough economically. I don't think the majority of people have really faced that reality yet. I don't understand the stock market at all right now. Despite that, this is going to be rough for small businesses across the country. Having said that, there are reasons we should be optimistic that this won't be another great depression. The reasoning behind my optimism is that we're just a lot smarter with macroeconomics, monetary policy, and fiscal policy than we were in the 1930s. The governments of the world have already implemented monetary fiscal policy that is helping to mitigate the impact of this. Even with that, it's still going to be a serious economic shakeup. At a high-level, my truth is that wellness isn't going away. This movement is not a fad. It's not an accident. It's the result of two post world war generations reaching their peak spending years and investing in the things that are higher up on Maslow's hierarchy of needs. We're not going to change that because we've had a tough couple of years. We're going to get through this.
Matt: I couldn't agree more. Thank you so much for sharing your time and your story Rick. I couldn't be more excited to watch MindBody continue to grow and have a positive impact on our industry.
If you'd like to learn more about Mindbody or follow Rick, please check out the links below:
Subscribe to StrengthPortal Blog
Get the latest posts delivered right to your inbox