Scaling The Run Experience: An interview with Holly Martin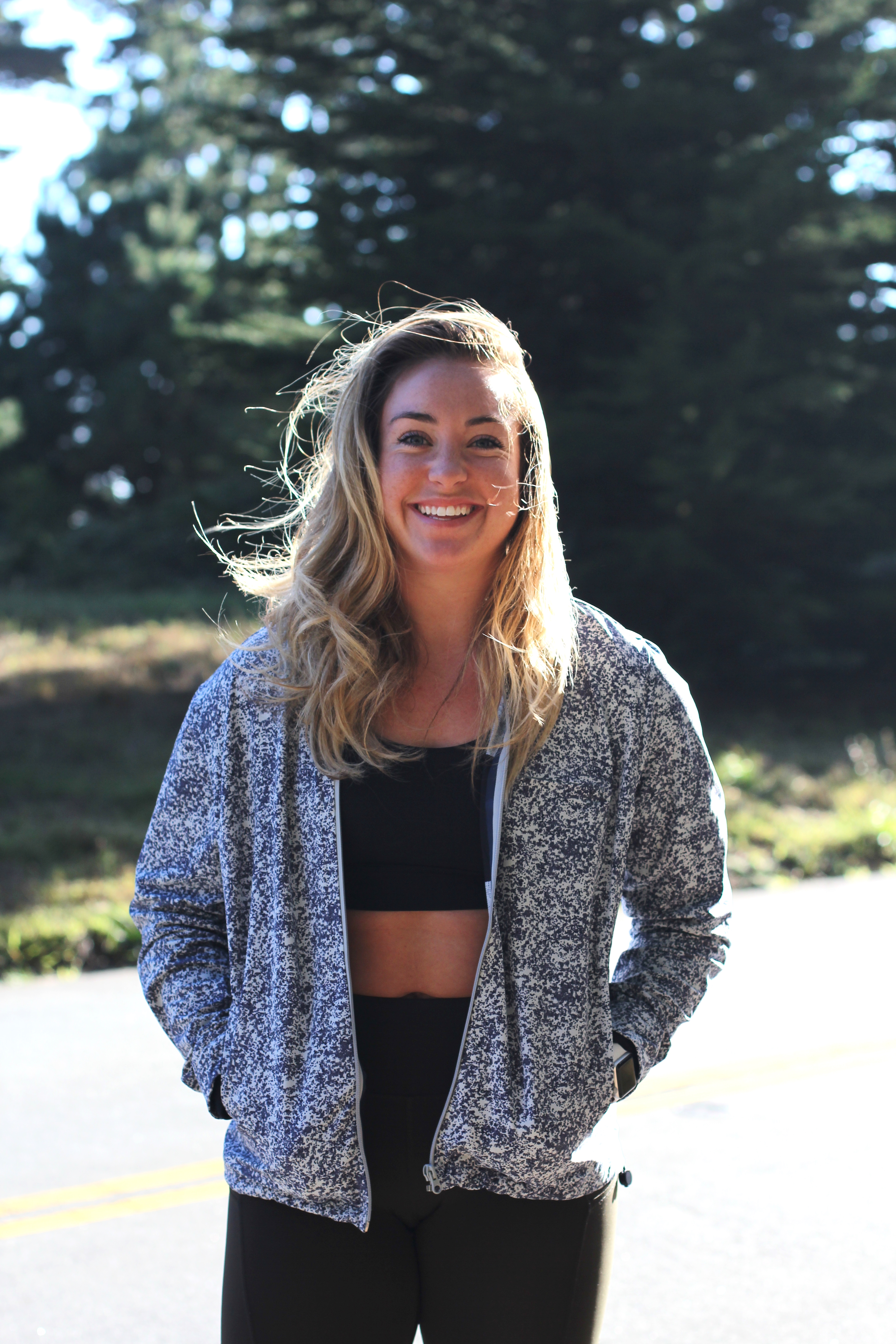 Matt: It's a pleasure to connect Holly. I'd like to start off by asking what first inspired you to pursue a career in health and fitness?
Holly: I grew up dancing and continued on to do it professionally after college, so I was always involved in physical activity in that sense. My parents were also super active as well. I grew up watching my Dad do IronMan Triathlons, for example. I eventually started to move from dance into training, including running. As I tried these new forms of fitness I just started to become more and more passionate about it.
Matt: What kind of challenges did you have early in your career as a personal trainer?
Holly: One thing that took me a little while to get used to was adapting my approach as a trainer to each client's needs. You can't use a cookie-cutter plan just because that's what you are comfortable with from your experience. One of my first clients was a man who really struggled to put on weight, which was a completely foreign concept for me at the time. I had to learn how to get into the headspace of other people and learn what motivated each individual I worked with.
On the business side, I feel very lucky to live in a city where word of mouth can really help grow your presence and reputation. I've seen trainers who used more traditional methods of spending marketing dollars to grow their business, but I found leveraging my personal relationships and clients in-person to be much more effective.
Matt: Can you tell me a little about the structure of your in-person services?
Holly: With my in-person personal training clients I work out of a few smaller gyms with clients who are all very conveniently located closeby. This was important to me because it really reduces cancel rates and allows my business to be more consistent. I go through a trial phase with clients so I can get a sense in the first few weeks if a new client is committed or not in terms of really working to hit their goals. One thing I'm really thankful for is that the owner of one of the gyms I work out of has really been a mentor to me in terms of approach to my business and my personal education.
Matt: Are you doing mostly one-on-one private training or any semi-private?
Holly: The majority of my business is private one-on-one training with clients coming in twice a week or more. I've done some semi-private training with two clients at a time and had a few clients who have paid for programming with a monthly check-in, but that isn't a big part of my business at this moment.
Matt: Awesome. So in addition to your own business you're a member of The Run Experience team. I'd love to hear more about the team and how you got started working with them.
Holly: When I first moved to San Francisco 5.5 years ago I started going to the SF Crossfit gym and was working out with Nate and Craig, the founders of The Run Experience. Nate was my coach and Craig was usually right next to me in the workouts. At the time, when I wasn't at the gym, was dancing professionally and working at a wine bar on the side. A few years later I was just doing my own thing and Craig reached out to ask what I was working on career-wise outside of dance. He asked if I was interested in working with them in even a small way because they needed some help. I just jumped in at 10 hours a week at first to see how it would play out and it really grew organically from there. I already knew Nate and Craig, had been getting into running, and also had minored in Entrepreneurship in school so helping build a business really appealed to me. Now the team has 10-12 members with everyone working remotely except for Nate, Craig, and I all working in San Francisco.
Matt: So The Run Experience has really build a strong brand and is focused on a niche within fitness, but I'd love to hear your thoughts on what has really helped the company stand out and grow to where it is now?
Holly: One thing I think has really helped with Nate and Craig's vision for the business is that they are super consistent about what they believe healthy running training should look like. It wasn't something they created to sell, it was simply creating content to share what had worked for them. Nate had worked with a lot clients prior one-on-one and trained people through injuries prior to starting The Run Experience. Craig had dealt with his own bad running injuries that Nate helped coach him through when they were just friends. They took what they learned, made a program, and saw it work for the first few hundred people that bought in. That really showed them that regardless of what the business growth would eventually become that their process really worked.
Matt: In terms of scaling up what challenges has your team had along the way?
Holly: It's interesting to scale a business online, especially in this day and age with Youtube where you can always find someone doing something better than you. We're committed to the fact that we're not just helping one type of runner. We almost built this thing for the 55 year old mother in Nebraska who has no access to advice around her to discuss why her right knee hurts when she runs, you know? So we try to stay committed to that and bring people onto the team to help us grow and expand by filling the areas we know we are lacking. This really helps our content, for example, because we get a lot of eyes on it to ensure that it's engaging for a variety of audiences. We've really put a lot of work over the last year into our editing so we accurately reflect what we want our brand to look like online.
Matt: I'd love to hear a little more about what your workweek looks like between the in-person and online coaching. How does this breakdown? The reason I'm asking this is because I think you've created what I view as the perfect sustainable model for a long-term, modern personal training career and I hope to see more of it over time.
Holly: Yeah, absolutely. It's something I really love talking about because it wasn't really planned at all. The breakdown of my week is that I'm training probably 15-20 hours a week in-person at the gym. Beyond that I'm doing about 30 hours a week with The Run Experience with a variety of different types of work. I'm technically the Operations Manager right now, but that could include going to races with Nate, networking, working on partnerships, managing the blog, creating video content, etc. The nice thing is that a lot of this, besides the filming days, is at home, so it really fits nicely around my in-person training schedule. I completely agree that this is probably what a personal training career needs to look like. One of the big killers in the PT business is that you have to be there to make money. You have to be there on the floor with your clients or else you aren't adding any value. It can drain you really fast.
Matt: Absolutely. So I want to ask about what your team is working on and excited about for this year? What's going to help The Run Experience continue to grow and have a strong impact?
Holly: One of the things we're most excited about is releasing new programming. We switched to a subscription model about two years ago so now people pay a monthly price to get access to all of our programs. We were getting to the point where we realize that people will keep the subscription, but if the content wasn't changing or evolving, the value was dropping for them. So we've released a new 5K program and are revamping our weekly running and strength programs that we release. Another thing we really want to do is to connect with our running community in-person. We're trying to figure out the best way to do that, but it may be several in-person training camps that our community can come to. We've played with the idea of having these close to big races since people travel to those. Nate, Craig, and I are all here in San Francisco so doing it on the West Coast would be nice, but the goal is to choose a location where the most people possible could come.
Matt: How do you balance your personal training with your coaching? How does this benefit you and the clients you're working with?
Holly: Right now I am pretty seriously into ultrarunning (so far a few 50Ks and I've got my first 50 miler in 3 weeks) and strength training. Part of what keeps me and my clients inspired is me making time for my own training and own goals throughout the week. Being able to come in and relate to them about being sore or getting them excited to sign up for something when they see me do it, has been something I've seen work over and over for my in-person and online clients. Not to mention, making the time for my own training keeps me feeling healthy and energized to make more out of the hours I do work - both in and out of the gym.
Matt: To wrap this up, how do you think the training industry will change over the next few years as these different types of training continues to evolve?
Holly: The reality is that you're only going to be as good as you feel as a trainer. I just don't think there's a reason for someone to work so hard on something that they burn out on it, you know? That's really common in the personal training industry. That statement extends to a lot of industries in the US. We just work ourselves like dogs and it's the way that everyone has been told to do it. I was very fortunate to grow up with parents who repeatedly told me to not end up in cubicle from 9-5 because that's what they did for their professional careers. I think it's going to become more common for trainers to realize that they don't have to put in 10 hours in the gym every day as trainers did for the last 25 years. The more trainers that realize that their value extends beyond the gym the more opportunities they will take advantage of.
Matt: Really appreciate you sharing your time and story Holly. I can't wait to watch the next phase of The Run Experience's growth!
If you'd like to connect with The Run Experience and Holly further, please check out the links below:
Subscribe to StrengthPortal Blog
Get the latest posts delivered right to your inbox